joepistol
Well-Known Fanatic
Joined

Apr 23, 2020
Messages

726
Location
Some years ago , I visited a gunshop in Troy, Mi, it was close to where my wife worked.
I'd met her @ work & taken her out to lunch, then stopped @ the shop on my way home, to see what used guns they had in their case.
Imagine my surprise when I saw one of my "bucket list" handguns.. a used, but well-cared for S&W mod. 41..( factory custom target .22 rimfire)
and another pistol I'd only read about.. a Series 70 Colt Govt. model 1911 w/ Jim Clark "Hardball" modified package.
An old9er) target shooter & friend of gunshop owner, had passed,.. his wife put some of his pistols for sale, on consignment, at the shop.
Long story shortened a bit, I bought both pistols. Found a link to some old gun magazine & was surprised to find an article on Jim Clark,
and his accomplishments. Here's a link to the article:
I only wish I could shoot either pistol close to their potential..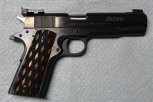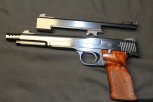 Last edited: